How to Use Prostate Massager
Prostate massage therapy had been the de facto way of treating prostatitis and enlarged prostate condition before the invention and widespread use of antibiotics. Sadly, the use of prostate massage ebbed and gradually faded out on the adoption of antibiotics. However, antibiotics are not very effective in treating every prostate infection. This makes it critical to understand how to use a prostate massager to treat or manage prostate conditions effectively.
Prostate Massage Techniques
Prostate massage can either be done with the finger or with a prostate massager.
Massaging with a gloved lubricated finger
To use the finger for prostate massage, it is necessary to lubricate or glove the finger. Internal prostate massage with a lubricated finger is done by inserting the finger through the anus upwards and extending it to reach the prostate. This is similar to the technique of digital rectal exam (DRE). The prostate is pressed against or milked in this way and a mild sensation may be felt in the process.
With a lubricated finger, it may be difficult or impossible to massage oneself. Men usually have their spouses or doctor massage them. Most men do not accept this massage technique because of its awkwardness. Besides, massaging with a lubricated finger is not as effective as with prostate massagers.
 Massaging with a prostate massager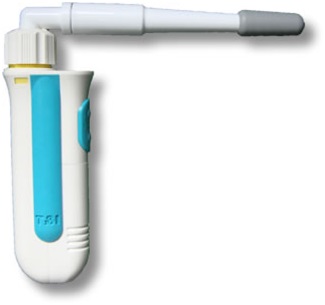 Prostate massagers combine ease and effectiveness; however, it is necessary to learn how to use a prostate massager to make the most of its benefits. With a prostate massager, you can massage yourself. The process may take between 2 and 6 minutes but the effectiveness of the massager is highly dependent on the massager in question.
Sonic Prostate Massager
Some prostate massagers are better than others. It is always advisable to have a professional examine the massager before purchasing it. It is best to go for massagers specifically made for the purpose of prostate massaging and not a sex toy converted to a massager. Sonic prostate massager is one of the best massagers available today. It is sleek, perfectly shaped, and takes advantage of sonic waves to soothe and massage the prostate effectively. Using sonic massager is equivalent to engaging in series of prostate exercises with each exercise making the prostate better and invigorated. Interestingly, this prostate massager is easy to use; here are how to use the prostate massager.
Firstly, lubricate the massager's rubber head and anus with natural water-based lubricants.
Insert about 6-9cm of the massager into the anus on pressing the "on" button.
Relax the anus muscles and allow the massager in the anus for about 15 seconds.
Move the massager gently while aiming at the prostate gland and press it against the gland for about 2-4 minutes.
Maximize the impact on the gland and apply gentle pressure to milk or drain it.
Remove the massager from the anus after these processes and wash it.
The above processes on how to use prostate massager apply to sonic prostate massager but it can equally be applied to other massagers. Sonic prostate massager is the best choice for the following reasons.
On pressing the "on" button and inserting the sonic massager into the anus, the massager releases "sonic wave vibrations" which enables and ensures a more effective result during the process. The sonic wave relaxes the prostate, reduces inflammation, stimulates the muscles, and ensures effective flow of blood around the gland.
Micro impulses about 9000-12000 impulses per minutes frequency are produced with sonic massagers. This frequency is optimal for blood flow improvement; nodes, vessels, muscles and cells regeneration; and also enhance healing and regeneration.
It is a high-quality massager, and not a sex toy. Thus, there is no unwarranted consequence in using this massager.
The massager is designed by a team of specialist doctors and puts into consideration the requirements for ergonomy, ease of use as well as efficiency.
To maximize the sonic prostate massager or any other massager, you don't just have to learn how to use prostate massager, you also need to understand how to safely handle the massager. Managing a prostate massager involves the lubrication of its component parts before and after use. Washing and cleaning after use, correct battery installation (sonic massagers require AA batteries), and assembling the component parts for the intended usage.
Caveats when buying massagers
You need to know how to buy a good prostate massager before even considering how to use the prostate massager. This is not necessarily a buyer's guide but there are some relevant things to guard against when buying a prostate massager.
Watch out for sex toys: Because of the recent boom in the prostate massage market, most sex toys have been converted to (or renamed as) prostate massagers. These supposed prostate massagers are not designed with prostate massaging and ergonomy in mind. Thus, such massagers may have unintended consequences and most of the aforementioned benefits of sonic prostate massager may be absent.
Consult your doctor before purchase and use: No matter the benefits offered by a prostate massager, you need to consult your doctor before purchasing and using it. Your doctor will be able to determine if the massager is safe for use in your condition. Thus, unintended consequences may result if you fail to seek relevant medical advice before use.
A good understanding of how to use prostate massager would not just improve your prostate health but it can also enhance your sexual function. Prostate problems could limit sexual functions but prostate massage reduces the symptoms of prostatitis and BPH and therefore can heighten your sexual function.
By treating and minimizing the symptoms of prostatitis and BPH, prostate massagers can improve your quality of life. Besides, prostate massage therapy is a natural treatment method and a better result can even be achieved when combined with prostate food supplements. You shouldn't wait to develop prostatitis or BPH before learning how to use prostate massager, you can use prostate massagers to prevent these odious conditions from occurring in the first place, especially when you live a sedentary lifestyle.