For Best Results – try the Prostate Health Package
Prostate Health Package includes Sonic Prostate Massager and three month supply of Prostanol as well as BONUS eBook: "The Prostate Massage Manual: What Every Man Needs To Know For Better Prostate Health" by Harvard MD Ronald M Bazar – a great guide to prostate health and massage treatment.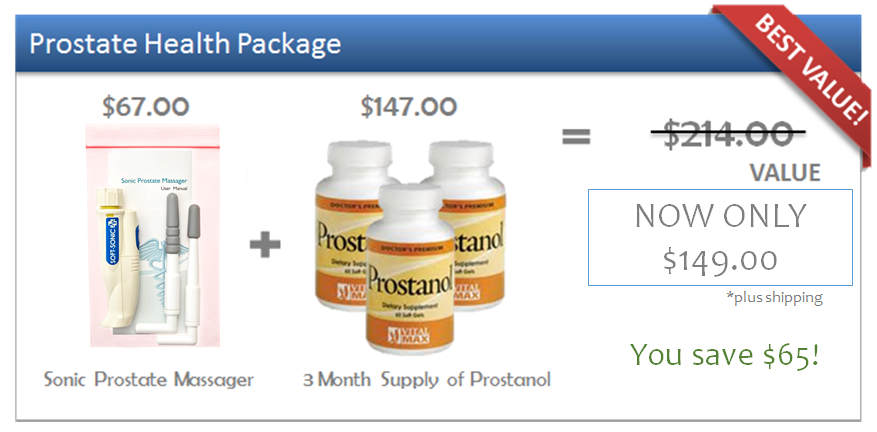 Prostate massage can increase the effectiveness of supplements. When massaging the prostate, circulation is restored to the genitourinary system, easing the flow of supplements throughout the body while helping to drain and unclog blocked ducts and glands. As a result, fresh blood and supplements are able to travel to more areas of the body, including areas of the genitourinary system and prostate that are normally harder for supplements to penetrate.
Use of the Sonic Prostate Massager in combination with supplements provides added benefits for prostate health. The Sonic Massager will help restore blood flow to stagnant areas of the body and allow fresh blood and supplements to effectively travel to these hard to reach areas.
SONIC PROSTATE MASSAGER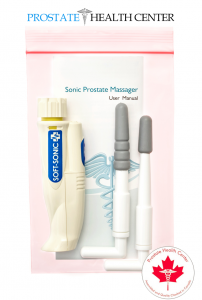 The Sonic Prostate Massager device is a portable vibrating massager designed for soothing of the prostate gland and rectal muscles by creating stimulating vibrations.
Lack of blood flow and/or unhealthy blood is the cause of almost every problem with prostate gland. Provide the gland with more oxygen and nutrient rich blood specifically to this area and most of these problems will diminish and disappear. Specific correct physical stimulation greatly increases the flow of blood into the gland more effectively than any other treatment. It is the absolute the best weapon in existence to help promote healing or prevent conditions prostate problems.
It is better than uncomfortable doctor visits. While you still must visit a doctor to get a proper diagnosis, nobody enjoys the process of going to see a doctor and have him put on the rubber gloves and administer prostate massages as a treatment. The non-awkward way, non-invasive alternative is a do it yourself way! Isn't that how men prefer to deal with their problems?
PROSTANOL DIETARY SUPPLEMENTS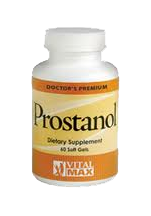 Prostanol is a truly the best out there choice mainly because of its ability to show results quickly! Improvements may be noticed in mere weeks, with lasting results seen after only one month of use. The secret here is easily digestible quickly dissolving soft gel capsules, which make Prostanol one of the top fastest-acting supplements available today.
Prostanol is an all-natural prostate supplement created by Mark Rosenberg, M.D., founder of The Institute of Healthy Aging. The key ingredient needed for prostate and urinary health is Beta-Sitosterol, which is found in this supplement and it comes in a soft gel form. This fine product scored better than most other products in lab reports making Prostanol our number 1 recommended supplement brand.
It uses an 85% extract of saw palmetto, contains 20mg of beta sitosterol, and provides 266% of the RDA of Zinc. – a great immune system booster. Sterol rich blend Phytosin which consists of Stigmasterol, Brassicasterol and Sitostanol is excellent for prostate health. This ingredient is known to reduces prostate and urinary problems, such as frequent urination and prostate inflammation.
ALSO INCLUDED IN THE PACKAGE – eBOOK
During current promotion (limited time offer) your purchase will include a BONUS eBook: "The Prostate Massage Manual: What Every Man Needs To Know For Better Prostate Health" by Harvard MD Ronald M Bazar – a great guide to prostate health and massage treatment.
The Prostate Massage Manual is great resource that discusses prostate massage and health in depth and includes the following topics: Prostate's 10 Amazing Functions | Benefits of Prostate Massage | Prostate Exercises Internal Prostate Massage | Prostate Massage Devices | Sex and Your Prostate Prostate Massage Resources | How to Nourish Your Prostate Gland | Other Books and Course.
Ronald M Bazar
Educated at McGill and Harvard Universities, Ron Bazar has over 40 years of experience as a natural foods and health insider and is a subject matter expert when it comes to prostate health.