Prostate PROTECT Seat Cushion
PROSTATE PROTECT SEAT CUSHION
About 50% of men suffer at least once in their lifetime prostate pain. In prostatic syndrome, it is 5% of cases of chronic bacterial prostatitis, in 65% of cases of non-bacterial prostatitis and in 30% of cases of prostatodynia. Prostatitis can affect men of all ages. For people under 50, it is the most common urological disease. This condition is not very dangerous, but it is tough to treat. It has no connection with the development of prostate cancer. Prostate pain can be reduced not through anti-inflammatory drugs or pain killers but using the brand new Prostate Protect Seat Cushion.  It is imperative in treating the underlying prostate pain.
Poor sitting posture can result in more than 65% of the weight to bear than when in a standing position.  Every time you want maintenance lumbar, love yourself and don't let your body overdrafts.
Have you experienced these symptoms lately?
hemorrhoids
relief pressure
Coccyx pain?

relieve sciatica pain naturally
Hernia
Spinal stenosis.

mild/acute pain when sitting?
Discomfort around the groin or testicles?
Problems with ejaculations
The solution is here
Imagine instant comfort with this NEW chair cushion … the more you spend time sitting, the more YOU'LL LOVE THIS NEW PROSTATE PROTECT SEAT CUSHION! Excellent to reduce sciatic pain or tailbone, improve your posture, sit on a hard surface, or just sit at home, at your office, in a wheelchair, a car or a van.
Ergonomic cushion inclined shape toward the front of the seat, realized by a complex of different density foams having molded and viscoelastic memory foam with specific internal cutouts allow the release of the pelvis and perineum during the seat.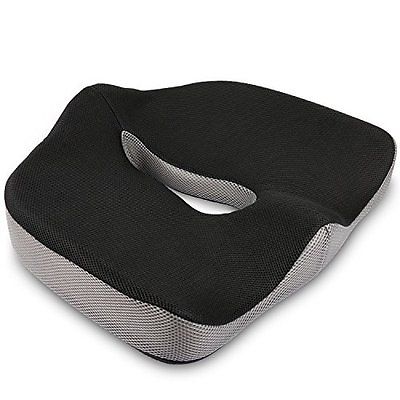 Prostate protect seat cushion for is designed to help reduce lower back pain and pain caused by long periods of sitting. Superb orthopedic seat cushion, you can sit comfortably for hours reducing the pressure on the spine, hips, and tailbone (coccyx). The gentle slope to the pond, the natural curve of the lumbar spine for proper posture, relieves sciatica pain naturally, like prostatitis, pressure ulcers, hernia, hemorrhoids and spinal stenosis.
What you did not know
Ergonomic and scientists professionals recently discovered that when we sit, the largest part of our weight is transmitted to the sitting surface through double relatively minor points referred as ischial tuberosities with a sum surface area approximately the size of the head of a baseball bat. For laughs, fathom sitting on two perpendicular basket bats, one under each cheek. 'Aaaawwchh.' This primarily means that our anatomical design was not originally suited for the roles of the sedimentary culture we have embraced. Therefore, the effort to develop this new prostrate cushion is to prostate relief pain and distributes the body weight evenly over a large surface area. If the seating surface is flat like a church pew or picnic bench, this device amplifies the discomfort by flattening our round bottom.
Product Descriptions
The new prostate protects seat cushion was designed specifically for the travel and leisure in mind. It is made of flexible polyurethane foam. The new prostate protects seat cushion weighs less than a pound and still gives the advantage of our ergonomic design. The new prostate protects seat cushion also features our patented integrated handle and foldable design and is the most comfortable, ergonomic portable seat cushion on the market today.
Benefits
Improves comfort where you sit
Five degrees slope to front restores proper posture and reduces stress on the lower back
Eliminates the pressure of soft tissue and suspends the tailbone
WHY IT'S THE BEST IN THE MARKET
Comfortable – Our seat cushion shaped memory foam adapts to your seat to ensure maximum comfort, and is made of a fabric of the highest quality velvet touch and high durability range.
A beneficial offer – Compared to trademarks known at prices over 90 euros, our prostate protects seat cushion of high-quality cost half the other products, thanks to the relationship we have with the best manufacturers directly. It is made of durable fabric upscale velvet and includes an elastic band and a washable cover to take when you travel.
An elegant design – Our coccyx cushion is perfect for both women and men and works very well associated with a lumbar support cushion.
Warranty zero risk – 30-day money back guaranteed you by our excellent customer service small business. Try yours now without any risk!
Take anywhere – Ideal for home, chair, chair, couch, lounge chair, car seat, wheelchair seat sports stadium and more. Small enough to fit in luggage bag air travel comfort.
High-density foam, high-quality– specially designed to maintain the shape, balance and comfort while providing long-term back and hip. The cushion comes with a durable, removable and machine washable.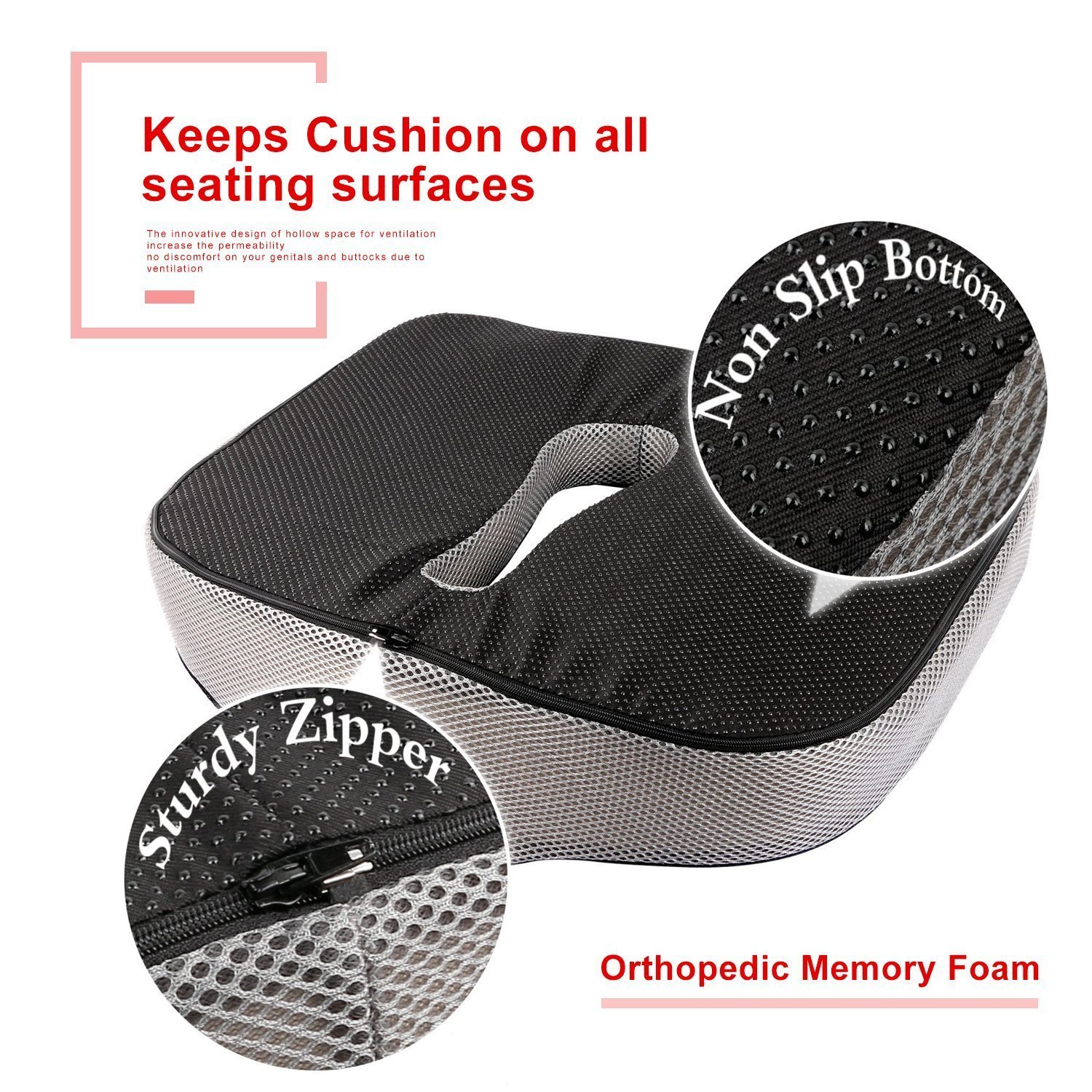 Direction for use of Prostate Protect Seat Cushion :
Place the U-shaped space at the back to reduce pressure on the coccyx (tailbone) while sitting. To use it effectively, ensure you put it on a chair seat with the channel running from the front part to the rear, keeping it directly underneath the crotch. It is recommended that the cheek is sitting on the foam: however, the crotch should have diminutive, if any, the force on it.
More information on the product
The new prostate protects seat cushion is a leading choice of comfort for people with the sensitive body. Manufacturers and offer a broad range of offers in the material that makes finding an ergonomic prostate stool. Thus, it is paramount in relieving the perinatal region and prostate region.
This type of the new prostate protects seat cushion is effective in relieving some pain that may have people with pain in the prostate. For trips into town, it remains convenient especially when you are a seasoned rider with kilometers. Although in most cases, the opinions on the subject differ on their effectiveness, this kind of cushion remains indispensable.
Very Important Tips:
Aligning the pillow between your thigh before preparing to because it can be moved since the last time you got up
If you have been sitting on your chair for a while, he cast on your back and rear.
Space behind your lower back. It is advisable to use a small cushion for small space to help your back straighten up.
Just a Click Away…
The Discreet Prostate Seat Cushion helps you address your Hemorrhoids and Pelvic Pain Issues 100% discreetly, in the office, car or at home. Say bye-bye to the prostate pain and live happily. Order Here.
Reviews
---
I just got my cushion today and it is excellent! It's ten times more comfortable than all the other therapeutic cushions I've purchased. I'm going to order another one very soon. Thanks!
Howard W, Toronto
---
Now I can work and also enjoy my dinner like it use to be. I think this cushion is very important for people suffering from Prostatitis. Sitting is very irritating, when suffering from a sickness like this. This cushion made my life so much more relaxing, especially with the center hole and the warmer right under the prostate area.
Airshad K., Newark
---
This cushion helps me driving… And it enables me to eat at restaurants where I could not go before due to uncomfortable seats.
Arnold W., Youngsville,
---
Great product! Helped reducing my pain, best cushion I ever used and bought.
Abdulmohsen A., Saudi Arabia